About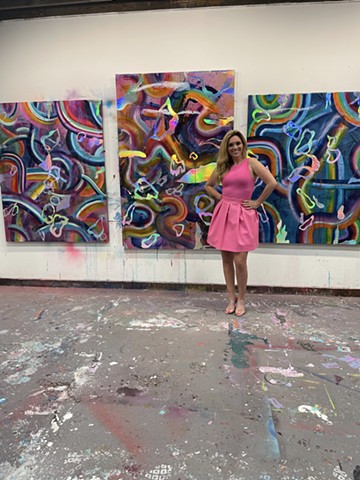 Suzie Collins is a contemporary artist who lives and works in Dallas, Texas. She is known for her large-scale abstract paintings that are characterized by their bold colors and gestural brushwork. Collins's paintings often explore themes of nature, spirituality, family, and human experiences, leveraging her art to tell stories and connect with people.
Suzie Collins was born in Dallas, TX and received her BFA from the University of Texas in Austin. After graduating, she worked as an artist and strategist, opening her own custom art practice in 2015, creating commissioned work for residential and commercial spaces.
In 2018 Collins was a recipient of a grant to an International Artist Residence in France, Chateau d'Orquevaux. She spent two weeks collaborating with artists from around the globe and being inspired by the countryside of Champagne-Ardenne.
Collins's paintings have been exhibited in solo and group exhibitions at galleries and commercials spaces throughout the United States. She is currently exhibiting 13 paintings at the Gensler architecture firm in Dallas.
In her artist statement, Collins writes: "I am interested in the interplay of color, light, and space. I use bold colors, mixed media and gestural brushwork to create paintings that are both visually stimulating and emotionally resonant. I want people to not only enjoy the aesthetics of the painting, but I want it to be an experience; a journey created by what is visually being conveyed but also through the technical process in create the artwork."